News
QoS, what is it and what is its importance in IT management
Find out why QoS is a competitive advantage and how it impacts operational fluidity and customer satisfaction.
According to a Forrester study, organizations that implement QoS can improve the availability of their services by up to 99%. For this reason, QoS becomes an essential tool to optimize the performance and efficiency of communication networks, guaranteeing that important services work smoothly and reliably at all times.
Here we delve into the concept of QoS, and what this set of techniques and policies used in communication networks is for. We also address how it is implemented, its benefits, and how you can incorporate QoS into your organization's IT management.
What is QoS or Quality of Service?
QoS or Quality of Service addresses the efficient allocation of resources to ensure optimal performance in a network. This discipline seeks to eliminate the gap between user expectations and operational reality.
Quality of ServiceS covers various aspects, such as
bandwidth,

latency,

congestion management,

traffic prioritization,

dynamic conflict resolution, to name a few.
By setting QoS policies, businesses can ensure critical applications get the necessary resources, reducing the chance of outages. Quality of Service also influences the resilience of the network, avoiding bottlenecks and maintaining consistency in high-demand environments.
The successful implementation of QoS involves advanced techniques, such as network segmentation and prioritization of packets in queues under different approaches. By applying this strategy, organizations can elevate the user experience while maximizing efficiency. 
What is QoS used for in IT services?
Quality of Service in IT allows resources to be managed from a comprehensive approach to guarantee a fluid and efficient digital environment. While, at the same time, it becomes the pillar on which an exceptional user experience is built.
Service quality is a specific strategy that impacts the effectiveness of digital operations. Through QoS, organizations can intelligently allocate network resources, prioritize critical applications, and reduce performance bottlenecks. Thus achieving lower latency, higher bandwidth, and a harmonious coexistence of online services.
In a business environment where efficiency and customer satisfaction are critical, Quality of Service in IT services is a strategic asset to achieve a solid competitive advantage and frictionless operation.
How does QoS work in IT management? 
However, we see that the impact of QoS is profound at the operational level and that it has a leading role in customer satisfaction and the competitiveness of the organization.
Below, we delve into two key aspects of how QoS works.
Traffic classification and prioritization
Quality of Service operation is based on the classification and prioritization of network traffic. Applications and data flows are categorized into different service classes based on their importance and performance requirements.
Using an analogy with automobile routing, QoS creates fast lanes in the data network so that some types of data never or rarely encounter a delay. Once those lanes are generated, it adjusts their relative size and much more efficiently manages the connection bandwidth you have.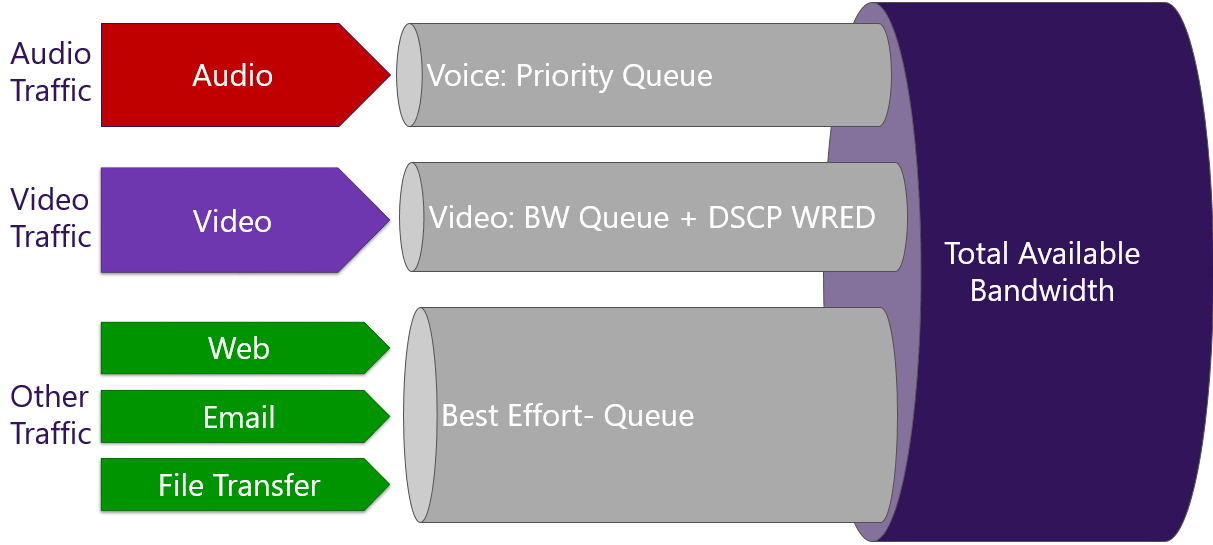 Graphic: Examples of QoS queues (Microsoft Learn)
In our experience, when the application of Quality of Service is carried out on already existing communication services within a company, the result is a reduction of costs.
Resource allocation and congestion control
Once the traffic has been classified and prioritized, QoS is responsible for properly allocating network resources to meet the needs of each class of service.
When the network approaches congestion, Quality of Service uses different mechanisms to control the traffic and prevent it from becoming overwhelmed. These mechanisms include limiting bandwidth for less critical applications, using priority queues, and selectively dropping non-essential packets.
In this way, Quality of Service ensures that the most important applications receive the necessary resources, even at times of high demand.        
 Benefits of QoS in IT services        
By applying Quality of Service both the organization and the users perceive numerous benefits, some of which are:
Improved performance and user experience
The successful implementation of Quality of Service has a significant impact on the overall performance of the network, positively impacting the user experience.
By prioritizing critical applications, QoS ensures fast and reliable data delivery, reducing latency and avoiding annoying outages. Thus, users will experience greater efficiency and satisfaction when interacting with applications and services that respond in an agile and predictable manner.
Optimization of critical applications
In business environments, some applications are crucial to the daily operation and success of the business. Quality of Service ensures that these applications receive the necessary priority in the use of network resources.
For example, in a financial services company, the transaction management system should receive preferential treatment to avoid delays or errors in transactions. Thanks to QoS, critical applications can operate without restrictions and offer optimal performance at all times.
Reduced downtime and network failures
Effective traffic management through QoS helps to avoid network congestion and collapse situations. By ensuring that each application has access to the resources it needs, Quality of Service minimizes downtime and network failures. This is especially important in environments where any interruption can be costly and damage the company's reputation.
How to successfully implement QoS in a company 
We cannot deny that the effective implementation of Quality of Service is crucial to achieving sustainable success. To achieve this, collaboration with a company that provides this service externally is the key to managing a resilient technological infrastructure.
QoS is not only a technical mechanism, but also a competitive advantage. Therefore, investing in experienced professionals not only ensures accurate deployment but also enables ongoing quality management.
In conclusion, establishing alliances with IT service providers, such as Wezen, allows companies to access expertise that enhances their technological infrastructure. You can achieve smooth operation, satisfied customers, and a lasting competitive advantage thanks to Quality of Service. At Wezen we can help you achieve it.