Legislation
GDPR in a cloud migration context
How to achieve GDPR compliance and ensure the protection of personal data in a cloud migration context. Here are all the keys.
The GDPR (General Data Protection Regulation) establishes specific requirements for companies and organizations regarding collecting, storing and managing personal data.
The protection of personal data is a topic that generates more and more interest in organizations, governments, and even the users themselves. In this article, we summarize all the information to understand its complexity and how to comply with this regulation. All this without putting data at risk and simplifying processes through cloud infrastructure.
What is the GDPR?
The GDPR (General Data Protection Regulation) or General Data Protection Regulation establishes specific requirements for companies and organizations regarding collecting, storing and managing personal data.
Why data protection is an issue on the international agenda
Data protection has become a topic of international interest. Ever since data began to be processed by electronic means, but even more so today, due to the accelerated digitization of all information.
National and international legislations, such as the GDPR, provide a legal framework that protects data subjects and regulates the use of their personal information. In other words, it establishes them as true subjects of law. But, above all, it establishes greater regulation for the automated processing of personal data.
Since the GDPR came into force, users have become increasingly aware of the importance of this legislation, as we can see in the following graph.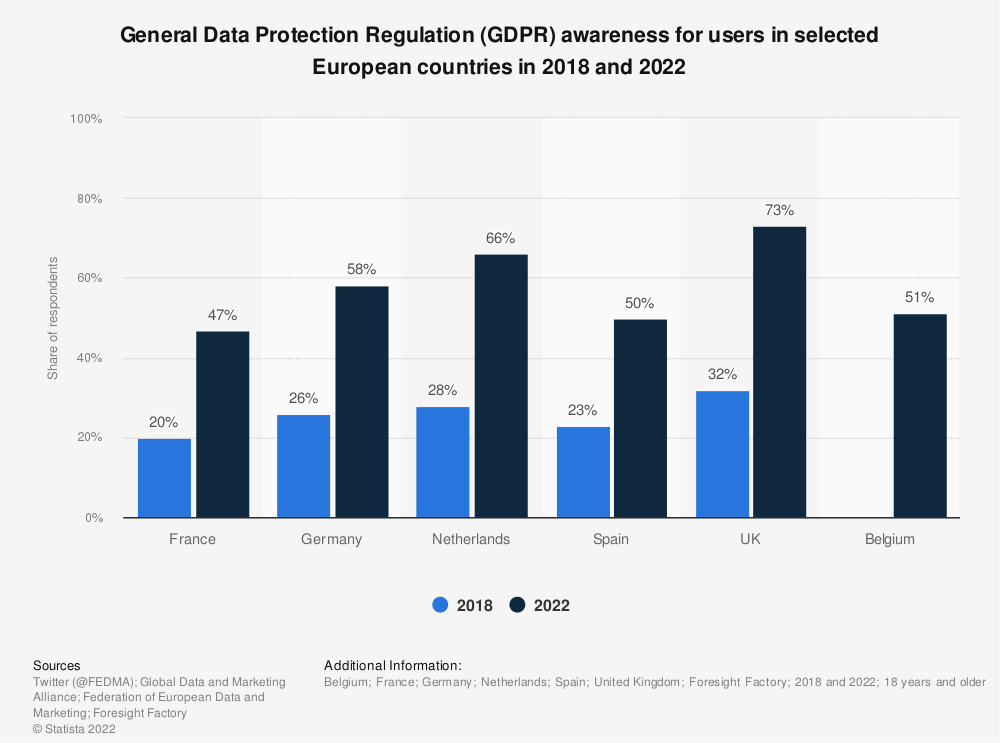 Digital transformation and an economy based on the use of information puts the need to ensure data security on the agenda of organizations and governments around the world.
More and more countries are joining in with legislation regulating this aspect. However, the European Union's General Data Protection Regulation (GDPR) has a more robust law with the highest standard of security and protection of personal data.
This legislation provides that agencies processing personal data need to have express consent from the individual, positioning them as subjects of law. It also gives identified people the possibility to request access to the details of the use of their data, as well as its removal or portability.
The cloud, the key to GDPR compliance
Faced with the obligation to comply with GDPR legislation, companies implement strategies to avoid receiving fines. In this context, the use of cloud storage becomes a key tool.
Through Cloud solutions, data management can be adapted and compliance can be ensured. This is possible by following 4 well-defined steps:
Data classification: First, it is essential to find personally identifiable information (PII) of EU citizens. That is information that can identify someone directly or indirectly.
In this instance, it is also necessary to create an inventory and identify the systems that collect and store that information. Although it may sound complex, with the support of a consulting service such as Wezen's, you will be able to obtain a correct and secure integration of this information in the cloud.
Manage the management: One of the problems that can compromise compliance is a weak administration of identities, credentials, and access. Therefore, here we pay attention to policies, roles, and responsibilities, as well as determining which data is most vital to preserving.
Protect user privacy: Now that we know what information we need to protect, we need to evaluate how we are protecting that data. This could be, for example, 2-factor authentication.
In this step, it is also important to establish mechanisms to prevent, detect and respond to incidents related to the information.
Identify vulnerabilities: By concentrating management through the cloud, it is possible to maintain complete documentation on processes and identify vulnerabilities to act quickly. Considering that legislation requires notification of breaches within 72 hours of becoming aware of the incident, this will be a great advantage to ensure compliance.
In conclusion,
For GDPR compliance in the context of migration to the cloud, true technological solutions are required. By this, we mean a technological infrastructure combined with professional services that guarantee security and compliance with data retention and processing regulations.
As we have already seen, users are increasingly aware of the responsibility that companies have in the management of their data, so if you protect their information you will be able to build customer loyalty and improve your market positioning.
In Wezen we have the experience so that migrating to the cloud does not mean a risk, but on the contrary, a guarantee of better performance of your organization. Write to us.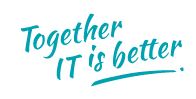 Source:
Regulation (EU) 2016/679 of the European Parliament and of the Council of 27 April 2016 on the protection of natural persons with regard to the processing of personal data and on the free movement of such data, and repealing Directive 95/46/EC (General Data Protection Regulation) Retrieved from: URL [April 4th, 2022]